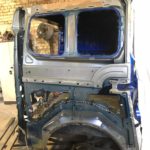 If you need motorhome body repair in Preston, bring it to our body specialist workshop. As a reliable company with years of experience in all types of vehicle body repairs, we are the company you can depend on. We can assist with scratches, dents, minor and major repairs along with full vehicle body restoration. Our expert team combine an eye for detail with the latest technology for superb results. The services we offer are comprehensive, and this means we can assist with small and large body repair work for your motorhome. Perhaps your motorhome has stone chip damage from driving on rural roads. Or perhaps someone bumped your motorhome while in the parking lot. We can assist with expert body repairs for your motorhome.
Minor bumps and accidents do happen and do not normally affect the roadworthiness of your motorhome. However, in Preston, motorhome body repair is not only aesthetic. Having the dents and scratches on your motorhome removed will increase its resale value too. It prevents the metal of your motorhome from oxidising and causing rust to form under the paint. The cost of your motorhome's body repair is significantly lower than if you ignore the damage. By ignoring the damage, you are likely to have large repair bills when you do take it in for repair. Our team ensures a professional repair job, and at a price that is cost-effective. In fact, we are committed to providing a service that will both meet and surpass your expectations. We also offer free independent advice so that you can make an informed decision about the work quoted for.
Motorhome body repair in Preston can be completed using our SMART technology. An acronym for small, medium area repair technology, it's a process that we use to provide an excellent finish to a small repaired area. Additionally, we can also provide large body repairs. If your motorhome has extensive damage to its body, we can assist. For more details on how we can assist you, contact Glass Finish today. We're a family-run business and are committed to traditional values. We aim to treat every vehicle that passes through our garage with care. We provide low cost, high quality body repair work for all types of vehicles.